Invisalign®
---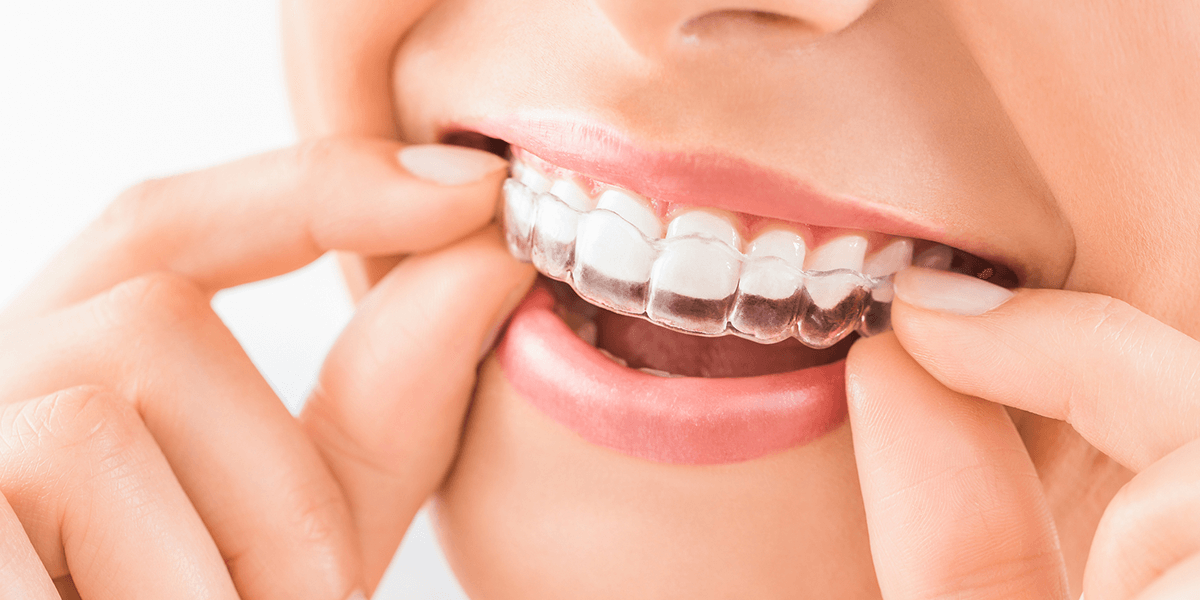 ---
Rosewood Dental provides Invisalign® services in Germantown, MD. Call 301-515-2466 to learn more and schedule your appointment. 
While traditional braces work well, many patients want to straighten their teeth without drawing attention to the fact that they're undergoing orthodontic treatment. When the idea of metal braces doesn't appeal to you, consider Invisalign instead.
What Is Invisalign?
---
Conventional braces use a system of wires and brackets to straighten teeth and correct bites. Invisalign is an advanced orthodontic treatment option that accomplishes these same goals, but uses clear plastic aligners instead of wires and brackets. Every few weeks, you'll switch to a new set of aligners and as you do, your teeth will gradually shift into their new positions. By the time you're finished with your final set of aligners, you'll have the beautiful smile you've always wanted without the inconvenience of traditional metal braces.
Benefits of Invisalign
---
Thanks to advances in aligner technology, most patients are candidates for Invisalign treatment. The advantages of Invisalign over conventional braces include:
SmartTrack Material
---
Invisalign is made with state-of-the-art SmartTrack material, which is thin, unobtrusive, and virtually invisible. Your friends, co-workers, and classmates won't even realize you're wearing aligners.
Comfort and Convenience
---
Aligners feel more natural when you wear them because, unlike braces, there are no uncomfortable brackets or wires. Brushing and flossing are easy and you can continue to eat all of your favorite foods because your aligners can be removed.
Results
---
You may be surprised to learn that Invisalign aligners can produce results as fast as, and sometimes even faster than, traditional metal braces when worn as directed. With its advanced SmartTrack material and SmartForce features, Invisalign can be used to correct crowding, gaps between teeth, crossbites, open-bites, overbites, and underbites.
How Invisalign Works
---
Even though your treatment plan is unique, the overall Invisalign process is the same for every patient. Here's what you can expect:
Imaging
---
During your first Invisalign appointment, we use the iTero scanner to make digital impressions of your teeth and jaw, which allow us to create an accurate 3D model of your smile.
Treatment Plan and Preview
---
With this model, we then put together a custom treatment plan using Invisalign's software. One of the most exciting parts of this first appointment is when we show you a preview of how your teeth will move as you progress through treatment and what your smile will look like once treatment is complete.
Fabricating Your Aligners
---
A high-tech 3D printing process is used to fabricate anywhere between 20 and 30 aligners to use for the duration of your treatment.
Wearing Your Aligners
---
Invisalign aligners only work when you wear them for the recommended 20 to 22 hours a day, so it's important to only take them off when you need to brush, floss, or eat. Every few weeks, you'll switch to a new set of aligners as directed and your teeth will slowly shift into place. You'll visit us every six to eight weeks so we can keep track of your progress and make sure everything's going according to plan.
Maintenance
---
Once you've completed your Invisalign treatment, it's important to maintain the results. You'll receive a set of Invisalign retainers to help keep your teeth in their new positions. At first, you'll wear the retainers all day, then eventually you'll only wear them at night.
Call 301-515-2466 to schedule your appointment.
---

---

---